0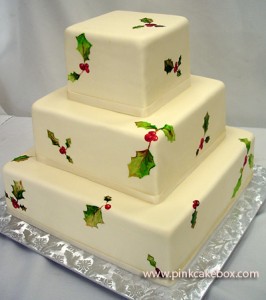 This is going to be the first of a few cakes that we feature from our friends at Pink Cake Box. Let's face it…these girls know cake and they know how to embrace a good theme with class and style.
This holiday wedding cake is a typical square wedding cake with the three tiers covered in ivory fondant. The base of each tier is trimmed off with a crisp layer of ivory fondant ribbon. The exceptional part of this cake is the hand painted holly leaves and berries on this cake. Truth be told I think the "commercialism" of Christmas can lead people away from planning a winter wedding. I don't really think many people are just DYING for a Santa wedding cake…you know what I mean? However, Pink Cake Box proves that there are many ways to class up a holiday wedding and incorporate the best parts of the season.
What do you think? Do you love holiday weddings? Have you seen an awesome Santa-themed wedding cake? Or do you prefer a non-holiday wedding?
Read More:
christmas cakes
,
Christmas Wedding Cakes
,
holiday cakes
,
holiday themed wedding cakes
,
holly and berry wedding cakes
,
holly cakes