0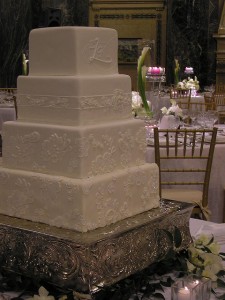 I love when I find a classic technique or concept, with a totally unique twist.
It's well documented that, even if bakers get sick and tired of white-on-white-on-white cakes, I am a big fan of them.  I just think a cake that doesn't use a lot of fireworks, or bells and whistles, but just stands there, with dignity, in white simplicity, is perfection.  I think few cakes showcase a cake artist's talent and creativity better than what they do with a white on white palette.
This fondant cake is a beauty.  While I'd be extra bowled over if those white designs were hand-piped – they appear to be an applique of some sort, but hey, maybe the artist cut out fondant, piped an added design, and then appliqued the pieces onto the cake to add texture and depth – I still love the unique vision of the cake.  The "ribbon" of design around the second layer from the top is just beautiful and oh-so "why didn't I think of that??"  But the real showstopper is the stylized and one of a kind monogram on the top layer.  It's almost as if the couple has commissioned a logo!  I love it.
Do you love white on white cakes, or do you think they're a snoozefest?  Leave a comment and let us know your thoughts!
Read More:
applique wedding cakes
,
classic wedding cakes
,
elegant wedding cakes
,
fondant wedding cakes
,
monogram wedding cakes
,
white on white wedding cakes
,
white wedding cakes