0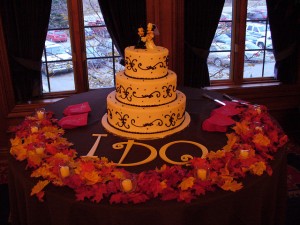 I do love autumn, contrasting colors, Mickey and Minnie, candlelight, and getting straight to the point!
Isn't this adorable? I fell in love with the fanciful message, writ large across the table. But then I noticed the details. Minnie and her Man on the top. The beautifully piped scroll work without a bobble in sight. The autumn leaves and lighting. And those candles. Wouldn't you love to see them lit?
So…on a day when my hands are stiff with the chill in the air as I write, it's nice to see a picture of warmth to make me smile.  The blessing is in the details.

Check out more Disney Wedding Cake Toppers here.
Read More:
Autumn
,
candles
,
Fall
,
fall leaves
,
high contrast
,
mickey mouse
,
minnie mouse
,
Seasonal cakes
,
special lighting