0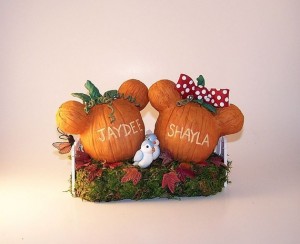 Happy Fall Everyone!
Yes…I know it's technically not fall.  And I know it's literally still in the 80s and 90s oh…everywhere, prettymuch.  But, you see, I can't help myself.
There are two things I love (well, there are many things I love…but the "two things" work here, so we'll call it poetic license.)  I love fall.  And I love Disney.
So you can imagine how hard I flipped when I saw this ab fab cake topper on Etsy!
Sweet Pixie Pie will customize your very own Mickey and Minnie Pumpkins for the top of your adorable fall wedding cake!  Yes, dreams really do come true!  The toppers are custom-made (obviously) from polymer clay.  Clearly, this adorable topper is destined to become a keepsake long after the "I dos" are done.
Check out Sweet Pixie Pie's Etsy shop for more deets!  And Happy Early Fall, y'all!
Read More:
autumn cakes
,
disney cake toppers
,
etsy cake toppers
,
fall cakes
,
mickey pumpkin cake toppers
,
sweet pixie pie