0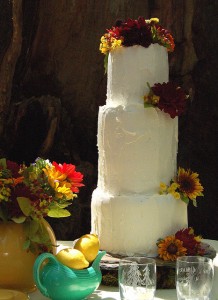 I love me some fall.
Sure, most of the time (read: last week), you'll find me prattling on about the beach and beachy fun.  But truth be told, autumn is my favorite time of the year.  And you don't get so much autumn in Florida, until, oh, around January.
So about this time of the year, I start manufacturing autumn in my head.  And I do that by baking with pumpkin and apple, and looking at fall-y things.  This cake is just such a fall-y thing.
I love the flowers.  I LOVE the berries scattered among the flowers.  And I especially love the rustic, imperfect finish to the frosting, the backdrop, and the lighting. Use of double tall layers is always a big favorite around here.  This was a beautiful, relaxed wedding, with "just so" touches.  I can tell.
So bring on the football and long sleeves.  I am ready for YOU!
Read More:
autumn color wedding cakes
,
autumn wedding cakes
,
double height tiered wedding cakes
,
fall wedding cakes
,
Rustic Wedding Cakes
,
white wedding cakes