0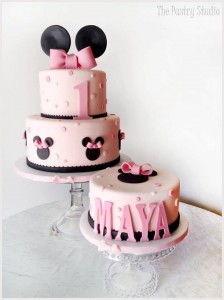 When I saw this cute-as-a-button Minnie Mouse-inspired birthday cake, I squealed like a little girl.  This was cuter than cute.  There's not a level of cute that's been invented yet that does it justice.
Sure, I know.  It's a first birthday cake.  But I live in the land of the Mouse, y'all.  So you can just imagine the copious number of Disney fangirls I know.  I'm totally serious.  They would LOVE this as a wedding cake, or for their bridesmaid luncheon.
There's somethings always so…just so about the cakes that come out of The Pastry Studio in Daytona Beach, Florida.  Sherri Meyers and her team have an eye for detail that leaves no stone unturned.  I look at their cakes over and over, and they're just perfectly to scale, perfectly decorated – never too much or too little.  The colors with their various tints – perfect.  The bows! (and my pet peeve is ugly fondant bows) – perfect.  The lettering, the cake pedestals – all perfect!
Good things often come in small packages, and very often come in small towns.  I am so glad that we have such an exceptional cake shop right in our backyard.  Proud, actually.
For more information about The Pastry Studio, visit their website or blog, and be sure to check out other Pastry Studio cakes that we've featured, like this fun Jimmy Buffet-Inspired Wedding Cake (complete with parrot!), or this Teal Swarovski Crystals and Flowers Wedding Cake.
Read More:
cute cakes
,
first birthday cakes
,
florida wedding cakes
,
mickey mouse wedding cakes
,
minnie mouse wedding cakes
,
pink and black wedding cakes
,
Pink wedding cakes