0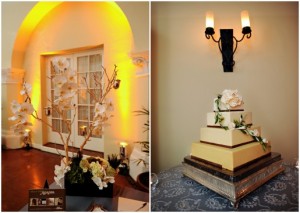 Greetings, Cake Lovers!  I trust that your Valentine's Day was all that you hoped it would be and more.  Around here, we're desperately looking forward to spring and all that beautiful warm weather.  It's even distracting us a little, we confess…
But there are wedding matters to discuss!  And discuss we must.  So, onto the news and what's going on in the wonderful world of wedding this week!
The royal wedding invitations are in the mail, and People Magazine reports that everyone's favorite Duchess, Sarah Ferguson, won't be among the guests.
This article from The Dover Post outlines some of the wedding trends that we can expect to see this spring.
The Chicago Sun-Times takes a look at wedding food trends, and says that while towering wedding cakes and cupcakes are here to stay, hot new trends include cookie bars, local and sustainable ingredients, and gluten-free cakes.
And onto the pretty and delicious…
Jay's Catering in California treated us to this beautiful post about The Ebell Club of Long Beach.  The photos by Gavin Wade Photographers feature a glorious array of foods, a stunning cake (featured above), and a sumptuous sweets station. 
Rachel at the Austin Wedding Blog suggests that, when in doubt for bridesmaids' dresses, you might consider going vintage.
I can't help myself – these are from the week before, but are so, so, so cute that I had to share!  From Pink Little Cake Blog, Kathia shares her adorable wedding dress cookies!
A Taste of Paradise for all of you who are weary from the never-ending winter:  A Cake Life from Honolulu, Hawai'i shares this adorable fish cake!
Finally, we had to show you this beautiful array of cakes that Sweet & Saucy's   Melody Brandon featured on her My Sweet & Saucy blog this week.  We especially love Melody's print cake and the bride who couldn't decide – and so she had three cakes with complimentary colors!
Have a delicious week!
Read More:
Austin
,
Hawai'i
,
royal wedding
,
The Ebell Club
,
vintage bridesmaid dresses
,
wedding food trends
,
wedding trends
,
Will and Kate