0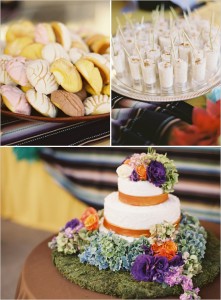 We will confess right here and now: it is terribly difficult to keep your figure when you spend hours a day reading – and occasionally sampling – the MOST luscious cake confections available on Planet Earth. Thank goodness for a gym and a handy walking path (oh, and a hubby who cooks delicious, healthy food), or I may balloon to the size of a small dirigible.
But we're happy for Spring and lots of Spring-y things! Here in the southeast, we're getting the first strawberries, and they're inspiring us to make all kinds of yummy treats.
But you didn't come here to hear me wax poetic about gaining weight and spring fruit. You came here for the wedding skinny! (No pun intended.) Here's what we spied with our little eye this week. We thought you'd enjoy these tidbits, too.  But first, The News:
Ask and you shall receive!  We whined about not seeing Reese Witherspoon's wedding dress (we just knew it was lovely) – and lo and behold, People Magazine answered!  Thanks, guys!  (Well, there's the cover shot, anyway.)
Were you intrigued by Prince William's choice of a McVitie's Biscuit Cake for his groom's cake?  We were, too.  Biscuit – a.k.a. cookie – as cake?  Do tell!  Well, the Canadian Press has the goods on how to make this concoction:  a recipe!  And may I say YUM.  (I have a feeling that Christen and I might be sharing this during our long-distance-all-night-Royal-Wedding-Slumber-Party.)
And now for The Sweet and Pretty:
There is NOTHING that I do not LOVE about this wedding from Linda Chaja Photography, courtesy of WeddingChicks.  From the color, to the wine, to the sweets table, to the beautiful traditional touches – breathtaking! (Check out the incredible cakeboard, the bride's lace mantilla – and the cowboy hats!)
To namechange – or not to namechange?  That is the question that Get Married asks, and gives brides valuable advice on what to do if you decide to make a change.
Need a creative Save the Date idea?  How about bookmarks with all the pertinent info right on the back!  This adorable – and wonderfully handy – idea comes to us via Off Beat Bride.
Sherri's Edible Designs of Hilton Head, South Carolina astounds us again with another amazing groom's cake – a mahogany box with an old world map made of sugar.  It's Indiana-Jones-meets-Harry-Potter, and we love it!
Dreaming of getting married at the Happiest Place on Earth?  Here's how you might do it for free – enter Disney Family's Happily Ever After Contest  for your chance at a Fairytale Wedding.
Check out 80 Cakes' edible sugar box favors.  We especially love the red one (although a girl can never get enough pink, either!)
Have a delicious week!
Read More:
colorful wedding flowers
,
Disney contests
,
Disney Happily Ever After Contest
,
Disney Weddings
,
edible sugar boxes
,
grooms cake
,
Linda Chaja Photography
,
map groom's cake
,
McVities Biscuit Cake
,
name change
,
Prince William
,
recipes
,
Reese Witherspoon
,
save the date bookmarks
,
wedding favors