2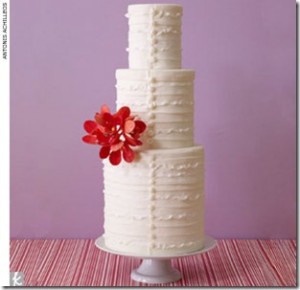 What a week for weddings it has been.  And to think – the season is just beginning!
The world watched Friday as Kate Middleton – now HRH The Duchess of Cambridge – married Prince William in a beautiful ceremony that was both modern and traditional all at once.  Christen and I tweeted and texted and Facebooked with our best girlfriends from all over, as we all enjoyed the elegant spectacle.
Now, we're sure to have a post or two to follow up on the Royal Wedding – there's a cake to discuss, after all – but this week, we leave behind the old, and focus on the new, as we see what's going on in and around the exciting world of wedding.
To begin, The News.  (Go ahead.  Try and find wedding news this week that doesn't involve the words "Will," "Kate," or "royal.")
Um K…old habits die hard. You didn't think we'd actually be Royal-Wedding post-less today, did you?  While the Royal Honeymoon has been delayed (and is shrouded in secret still), the Duke and Duchess of Cambridge headed out via helicopter from Buckingham Palace, while all eyes turn to the Royal Siblings, Prince Harry and Pippa Middleton.  (The article features a swell official wedding portrait, too.)
The Detroit Free Press traces the history of men wearing wedding rings.
A few weeks ago, we offered a recipe for a McVitie's Biscuit Cake, Prince William's choice for his groom's cake.  Today, we'll give you a recipe inspired by the uber-traditional British wedding cake – a succulent English fruitcake, covered with marzipan and fondant.  This girl thinks it sounds delish!
And now, The Sweet and Pretty:
Miss Gazelle on WeddingBee.com goes for her caketasting this weekend! – and shares a couple a super-lovely design ideas she's gathered for her own cake. (We lurve the buttoned-up cake!)
Mom Phyllis wanted to surprise her son with a fun groom's cake at rehearsal dinner.  Addy B's Cakes came up with this adorable rendition of the groom's favorite "old" movie theatre – The Alamo Draft House in Austin, Texas!
Want a little color with your wedding cake?  Check out this stunner by Pink Cake Box!  Just the thing for the couple who likes a little something different.
If I could stand up and clap for this article by Kara Buntin of A Cake to Remember, celebrating basic kitchen sanitation and how it's ignored on reality TV cooking shows, I would.  Wait a minute…(Standing.  Clapping.)  I just did.
Are you a bride on the go, with a gazillion details to remember?  Check out Weddmark, Wedzilla's iPhone app, for tips, ideas, and a handy way to upload, store, and organize your inspirational pictures on the spot.  The app also gives you instant access to Wedzilla's forum.
Colorado Couples may just want to check out this Couple's Party, hosted by Ellis Ranch in Loveland, Colorado.  (Thanks to Slice Cake Studio for the heads up!)
We are well-fed girls, and we love the WeddLady's advice to EAT on your wedding day!
We sense a trend:  check out these abfab flats fit for a princess bride via GetMarried.  (I want the second pair.  Like right now.)
Have a delicious week!
(Photo via The Knot.  Photographer:  Antonis Achilleos.  Baker:  Cake Alchemy.)
Read More:
bold color wedding cakes
,
caketasting
,
colorful wedding cakes
,
Ellis Ranch
,
English wedding fruitcake
,
flats
,
grooms cakes
,
iPhone apps
,
kitchen sanitation
,
McVities Biscuit Cake
,
organce wedding cakes
,
Prince William
,
Princess Catherine
,
The Duke and Duchess of Cambridge
,
wedding rings
,
wedding shoes