0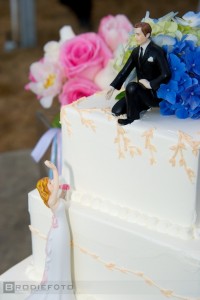 I have to admit..I have dislikes. You might not know that since I generally post about how amazing, gorgeous and yummy looking everything is.
Dislikes..I have them. I generally just don't blog about them until right now.
I tell you what I really don't love..those wedding cake toppers where the bride is dragging the groom. You know the ones. Sure they are funny and get a giggle..but they just aren't my style.
Anyway, you can disagree with me if you'd like. It's just a personal preference.
Now this cake topper has just the opposite affect on me. I love it. It warms my heart and makes me giggle a little at the same time. Because this groom..well he's helping his bride out. The groom is perched a top (a really pretty) the cake and is extending out his hand to help out the love his life. And me? I just melted a little bit inside.
Maybe I'm setting the woman's movement back 100 years..but this cake topper is just so much better. Because even though he may be messy and unorganized my groom would always reach out his hand and help me climb a cake.
You can purchase this cake topper on WeddingMountain.com. Just search for "Bride Reaching And Helpful Groom Cake Topper."
Photo Compliments of Matt Brodie from Brodiefoto.
Read More:
Bride and Groom Cake Toppers
,
bride and groom wedding cake toppers
,
bride climbing cake topper
,
brodiefoto