0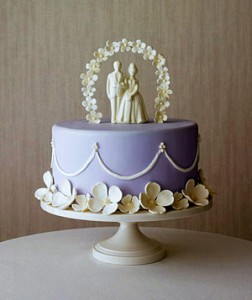 Love. This.
Maybe I'm speaking as a married woman of 11 years who doesn't need another single knick knack.  But girls, pay heed:  that cutesy cake topper will be gathering dust in a matter of years in the back of your china cabinet (or worse…in a box in the attic.)
My advice?  Go edible.
I think this is darling because it's both classic and practical.  Rather than have some chichi porcelain figures, why not have classic figures made out of chocolate?  And placing them under this cute little arch is darling.
And be sure to have a topper, even if you're having a small cake, like this one.  It's attention to details that you and everyone else will remember, and you don't have to have a cake that tops out in the stratosphere to have a little bride and groom couple standing proudly on top.
This idea is brought to you via the genius of The Cake Girls in Chicago.
Read More:
Bride and Groom Cake Toppers
,
classic cake toppers
,
edible cake toppers
,
vintage wedding cakes
,
white chocolate cake toppers