0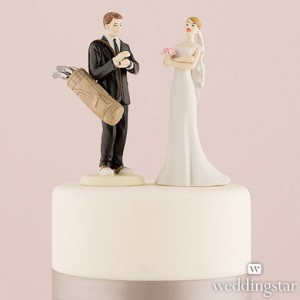 Call me old fashioned (I am!) but I still love seeing a wedding cake with a cake topper representative of the happy couple.
It might be passé to have a cake topper on your wedding cake but personally I think it's fun – especially if that cake topper is perfect.
And if you're groom-to-be just happens to be a golfer and if you are merely tolerating his every weekend game, this is the perfect cake topper for your cake!
The golfing groom and this slightly frustrated bride. It's fun and funny and whimsical and it would give your guests a good chuckle.
Plus, cake toppers are a nice keepsake from your wedding – put it in the china cabinet with all the other knick-knacks. (Don't tell me people don't have china cabinets anymore either?!?)
Either way, you can find this fun wedding cake topper here.
Read More:
Bride and Groom Cake Toppers
,
fun cake toppers
,
whimsical cake toppers