0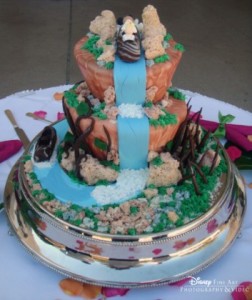 My oh my what a wonderful cake!
Last week Disney's Ever After Wedding Blog featured this Splash Mountain Cake on Wedding Cake Wednesday. This cake is a replica of the popular Disneyland and Walt Disney World attraction featuring two tiers, chocolate logs and a fondant waterfall. I could be wrong but it looks like the main mouse himself is taking the plunge into the Briar Patch on one of those chocolate logs.
Lucky for us at A Wedding Cake Blog the bride left a little more information about this gorgeous cake. The two tiers are a lemon cake with a tropical mousse and a chocolate cake with a raspberry mousse. If that wouldn't cause Brer Fox and Brer Bear to fling me back to my Briar Patch I don't know what would. (I have been on this ride..A LOT).
The best part about this cake? I don't have to stand in line for hours behind a man with no concept of personal space and likes to whistle Zip-A-Dee-Do-Dah over and over..and over..and over..(talk about the LONGEST 45 minutes of my life) again.
Read More:
disney themed wedding cakes
,
Disney Weddings
,
disney world
,
disney's fairytale weddings
,
disneyland
,
song of the south
,
Splash Mountain
,
splash mountain themed wedding cake