3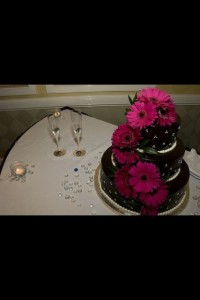 Do you remember a few weeks ago when I talked all about my friend who had a black wedding cake..and then I totally admitted defeat and told you I couldn't find a picture?
Well thank god for Twitter because I sent out a cry for help and BAM (say it just like Emeril) there the picture was..sitting in my inbox.
Here it is. Beautiful yes? My best friends cake. As gorgeous and eclectic as she is. The cake is a three tiered round which chocolate with chocolate mousse cake covered in chocolate ganche..you may be saying..I thought this cake was supposed to be black? Well..in person it was. It was actually dark tinted chocolate ganche and it looked much blacker in person. With the flash of the bulds the chocolate-ness of it came through. However, in my opinion that's okay because black fondant..or black icing..doesn't seem like it would be that enjoyable to scarf down..as I tend to do with cake. I also love the hot pink Gerber Daisies scattered across the top.
Read More:
Black Wedding Cakes
,
dark chocolate ganache
,
hot pink flowers on wedding cakes
,
white chocolate cake