Black Wedding Cakes
When you think wedding, the color black probably doesn't jump right into your mind. However, with the steadily rising popularity of fondant giving pastry chefs and cake artists new opportunities for creative expression, we're seeing more and more black cakes.
A heavy hand with black and result in a cake that's more fit for a funeral than a wedding! However, when black is applied as a fondant ribbon or bow, it can provide a nice contrast to the traditional white, or other softer colors more naturally featured at weddings.
We've seen some truly creative use of the color black on wedding cakes. Rich and opulent damask patterns are a terrific way to use black. Zebra or other animal prints can express the wild side of the happy couple. And the gaming enthusiast or horror film junkie? Well, how about a Zombie cake or a Chuckie topper? (Really. We're serious.) We've even seen a goth cake, which paired black and purple in a startling – and attractive – combination.
If black is a favorite color, and you would like to use it in your cake color scheme, we here at aWCB say, well, why the heck not? It's YOUR day. That cake should be an expression of YOU.
0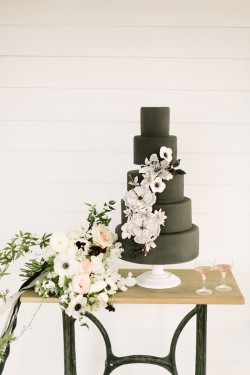 It's not secret that I'm a fan of dark and dramatic wedding cakes – especially those that use black icing.
That is such an unexpected choice for a wedding cake and it's also perfect when you want to make a statement with your cake.
Of course a dark cake needs something bright to make it pop, and we love the addition of a cascade of bright white blooms. Read More
0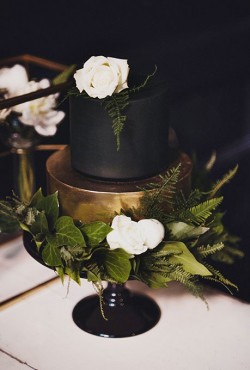 As much as I love the traditional white wedding cake, every now and then it's nice to mix things up and think about non-traditional cakes.
The idea of a black frosted cake might seem odd to some but I think it's a great idea for an elegant winter wedding.
A black and gold cake would be a bit too dramatic in the middle of summer. Read More
0
A black wedding cake might not seem like the most traditional wedding cake – but that's why I love the concept!
Imagine the surprise when your guests spot this dramatic and gorgeous black wedding cake at your reception!
I love the rustic look of the icing and the the addition of fall foliage including deep red roses, succulents, and even moss! Read More
0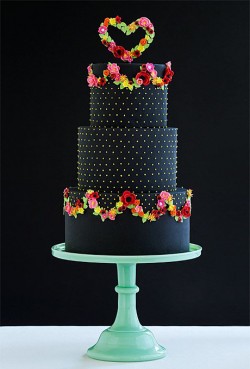 This cake is so non-traditional and it's not for everyone.
But I love it!
Now you'll probably need to be a rather modern, edgy bride to choose black fondant as the icing on your wedding cake. But if this is what you're looking for in a wedding cake I say go for it!
I love the modern vibe of this cake. I love the bright colors. It could be my new favorite cake. Read More
1
There's always drama during a wedding – whether it's the caterer, the limo, or something else entirely, drama of some sort is a guarantee on your big day.
Heck, they even make reality shows about it.
But what if the drama came in the form of something sweet and gorgeous – like this wedding cake with black fondant.
Look at this beauty! How often have you seen a black wedding cake? Sure we've featured black and white cakes here in the past, but nothing like this stunner. Read More
0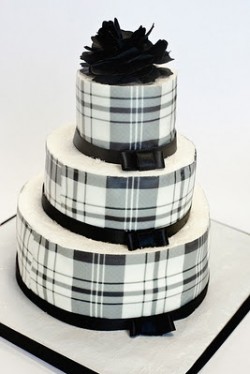 I heart plaid. You know that, right?
Last night, I posted one of my favorite holiday pics of the kids and me in our little tartan Christmas aprons — gifts from my mom last year.  I just love it, and it inspired me to look for a plaid cake to share with you today.
Turns out there are a surprising number of plaid cakes out there! Some frightful, and some lovely.  Today, I went with this simple black and ivory three-tiered plaid cake.  It's actually a birthday cake, but it would certainly make a lovely wedding or groom's cake.  And while it's Read More
2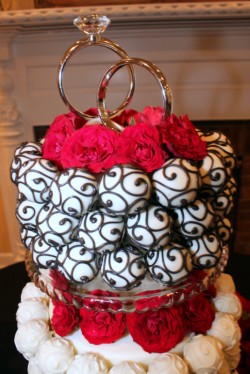 My name is Brooke, and I love cake pops.  (Hi Brooke.)
Omistars…I feel certain that cake pops were some kind of happy accident, or were the obvious invention of thrifty cake bakers who couldn't imagine throwing out all those cake scraps (we used to make rumballs out of all those yummy leftovers.)  Dress them up, put them on a stick, and you have the perfect two bite dessert!
But savvy folks like Julie of Party Pops by Julie are taking the artistry of the humble cake ball to a whole new level.  Check out this incredible wedding cake – made from Read More
2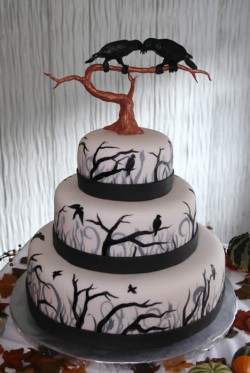 It's that time of year again!  No, not back to school or summer ending or fall beginning.  It's the time of year when I start looking for crazy and fabulous seasonal wedding cakes!  And since I'm already finding TONS, I had to go ahead and give you a preview of the stash with today's post – the Raven Wedding Cake.
This. Is. Read More
0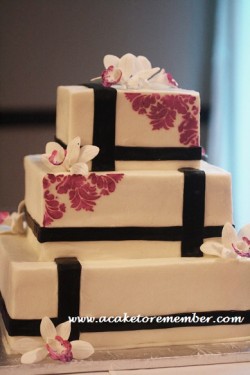 As much as I love a traditional wedding cake, I really dig when I run into something totally different that I haven't seen before, anywhere.  The other day, I ran across this example of just such a cake.
Kara Buntin of A Cake to Remember in Richmond, Virginia, has created some of my favorite cakes, to be sure.  This orchid and black wedding cake just may join the ranks.  I really appreciate the strong structure of the almost geometric black lines juxtaposed with the ultra feminine stencilling in a beautiful shade of orchid.  That Kara chose to Read More
1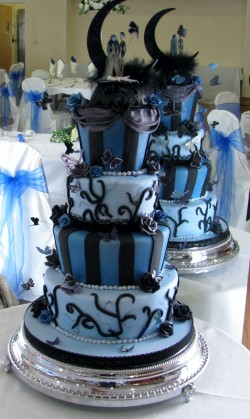 I think I spy Victor Van Dort and his Corpse Bride!
Isn't this fabulous?  This gothic cake by Marianne of Dazzlelicious Cakes in Plymouth, UK, is the talk of the town.  I absolutely LOVE the cool, ghosty blue and black motif. Black and blue roses, y'all!  And swags and swags and stripes and swirls.  This is an amazing cake, and this was a really fun wedding, I just know it.
There is just so much going on here!  Check out the Read More