0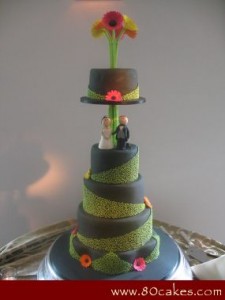 To me a black wedding cake is chic and classy.  I just adore them..and they are typically few and far between.  Especially the good ones.  We've featured a few here like this one.
Today I am so excited because now I get to show you a classic black wedding cake covered in what else..GERBERA DAISIES!  Hi, my name is Christen and I have a tiny obsession with all things gerbera.  Anyway, on with the cake business.  This cake was made by the talented Around the World in 80 Cakes.(Don't you just adore that name?  I wish I was a baker so I could come up with a schnazzy bakery name. In other news I have had my pretend pet bakery name picked out for years.  I would call it "The Bark Yard.")
This cake is cookies and cream cake with chocolate ganache and frosted in buttercream.  The cake is actually five tiers with the top tier above the handmade fondant bride and groom topper.  I love how original the design of this cake is.  I seriously cannot think of another cake that I've featured that looks like this one.  The cake is covered in black fondant and decorated with green icing.  The much beloved Gerbera Daisies are made out of gumpaste as well.  Jennifer, the owner of Around the World in 80 Cakes, describes her creative process of this particular cake a bit more here.
Foot-note: Did you know that they are called Gerber Daisies AND Gerbera Daisies?  Which one is right??  I'm so confused?!  I need to go to Flower School 101.
Read More:
black and green wedding cakes
,
Black Wedding Cakes
,
fondant wedding cake toppers
,
funky wedding cakes
,
gerbera daisy wedding cakes
,
gumpaste flowers
,
pink gerbera daisies