0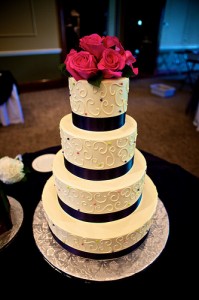 My best friend got married exactly 364 days after I did. She caught the bouquet at my wedding so I sort of think I got that ball rolling on that one. You're welcome.
She spent months sending me links to different J.Crew bridesmaid dresses she wanted me to buy & then calling me ten minutes later and telling me not to order it. After I cancelled one too many orders at JCrew.com she finally called me and said "Christen, I've done it. My cake is black. I have a black cake. My entire wedding will be black and pink."
It wasn't a question or even a comment really. It was a manifestation. A manifestation of cake and that manifestation was law. And her cake..well it was indeed black. My dress was black..her hair was black and she was gorgeous.
I've been searching high & low for a picture of her wedding cake but I just can't find one. This is the closest I could come (and honestly this cake would make her proud as well). So for all you black and pink lovers out there..this cake is for you. This is a four tiered round cake with a thick black ribbon at the base with gorgeous fondant piping. The roses on top and that pop of hot pink that you need. My favorite part of this cake is the little details. Click the image to make it larger and check out the colorful yellow, pink & blue dots scattered all over the cake. I love the little pop of color that it brings.
Read More:
Black and Pink Wedding Cakes
,
Black Wedding Cakes
,
pink roses on wedding cakes
,
Pink wedding cakes