0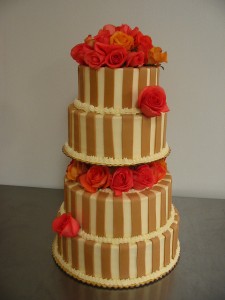 I have to admit. Spending a good chunk of my days looking at wedding cakes I have come to a conclusion. A lot of wedding cakes look the same. Now here is something you don't see everyday. A striped wedding cake!
I love it..love it, love it!
There are a few things about this cake that make it unique. First, the obvious. The stripes! These stripes could be so hard to pull off. One misplaces stripe on an otherwise gorgeous cake and all we would be talking about is how one stripe is a half a centimeter closer to the other stripe than it should be. I also love the subtle color of the brown stripes. I would love to see this in a light pink..or blue..or oh my gosh turquoise! I die! The second thing is the separated tiers. It's basically two cakes in one. The pink/peach/brownish roses that separate the tiers give it such great balance. If you hadn't heard..I love this cake!
Read More:
brown wedding cakes
,
fondant striped cake
,
pink roses
,
separated tier wedding cakes
,
striped wedding cake