1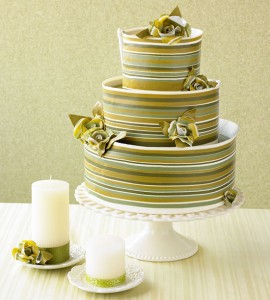 The holidays are the one time of year when I really enjoy the color green.
It's just such a festive color when it's paired with the other holiday hues like silver, gold, and red. And this cake really caught my eye because it features more than just one shade of green.
While it might look like the cake is wrapped with fabric, each tier of the cake is actually wrapped with bands of chocolate (yes, that's chocolate!) with stripes in varying green hues accented with white to make the greens really pop.
And if you look closely the top of each tier is iced in one of the green shades from the bands. How brilliant!
Accenting the tiers are roses shaped from the striped chocolate. The whole cake looks like a lovely holiday package, wrapped with love. This cake would be so lovely at your winter or holiday-themed wedding.
You can find this green beauty here.
Read More:
chocolate
,
chocolate roses
,
chocolate wrapped cakes
,
green
,
green flower wedding cakes
,
green wedding cake
,
Green Wedding Cakes
,
holiday weddings
,
winter weddings