0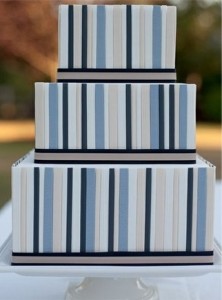 I went in search of preppy today. And preppy I found.
You may not believe this, but I'm not so much a froufrou girl.  My favorite colors?  Khaki and navy blue.  In fact, I'll give you a $100 if you can spy me one day out of my life without khaki on my person somewhere.
I really love tailored and unfussy stuff.  And today, I wanted to declutter a bit, cakewise.
I love this approach to cakery, don't you?  Sure, we've seen striped wedding cakes.  But this one appears to be made with strips of gumpaste or modeling chocolate.  Maybe it's fondant, but it looks a little more hearty than that.
But I love how the cake artist took basically two colors – blue and white – and played with shades of the colors to make a really interesting cake.  No flowers.  No bows.  And only enough ribbon simply arranged around the bases to pull it all together.
Sadly, I don't know who made this cake.  If you do, please let me know.  For now, I'm happy to stare at it and share it with you.
Read More:
blue and white wedding cakes
,
Blue Wedding Cakes
,
preppy wedding cakes
,
tailored wedding cakes
,
unfussy wedding cakes