0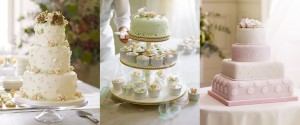 It was announced earlier this week that Fiona Cairns has been chosen by Prince William and Kate Middleton to bake their wedding cake. I've been eagerly counting down the days until my all night Royal Wedding Slumber Party (there will be one guest in attendance…that would be yours truly.) Since I am obsessed totally pumped about this wedding, I had to do a little digging on one Fiona Cairns.
I hit up the Fiona Cairns website and found the most gorgeous collection of cakes sent straight from heaven above. Seriously, go take a look for yourself. I am thrilled that Ms. Cairns will basically be setting the trend in wedding cakes for the forseeable upcoming wedding season future. Pictured here are some of the cakes featured on Ms. Cairns' website, and of these, the one on the right hand side happens to be my favorite. Perhaps because it's pink and polka dotted..I don't know.
I cannot wait for April 29th.
Sidebar..I am still trying to find a time for the wedding of the century. If I need to take off of work I need to know.  Like now.
Read More:
fiona cairns
,
Kate Middleton
,
Prince William
,
royal wedding
,
royal wedding cake