2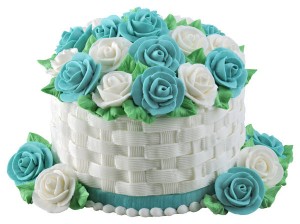 Who needs Fiona Cairns when you have Baskin Robbins?  Um, this is not a crack on BR because…ice cream AND cake together…magical.
For a limited time, Baskin Robbins across the United States, United Kingdom, Australia, and Canada will offer this cake, made with traditional vanilla cake layered with Baskin Robbins' Chocolate Mousse Royale ice cream, and topped with 30 piped blue and white buttercream English roses.  If you are lucky enough to live in the UK, they will also be offering another cake called "Sweet Marriage," which features a sparkling wine flavored ice cream…..whoa.  Hold the phone.  Wine flavored ice cream?!?!  Hurry…I need a plane ticket…stat!  God Save the Queen!
These bad boys will retail for $29.99 in the United States.
Read More:
baskin robbins
,
baskin robbins royal wedding cake
,
english roses cake
,
ice cream cake
,
Prince William
,
royal wedding
,
wedding ice cream cake
,
william and kate