0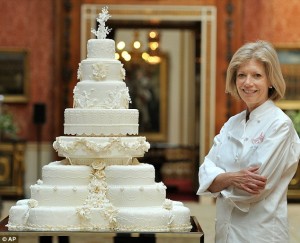 Fiona Cairns.
Duh.
Late Friday afternoon while I was still at work, my partner in crime all things Wedding Cake sends me a link with the picture of the most beautiful wedding cake I have ever seen.
The cake was eight tiers-tall, and Fiona Cairns and her team spent five weeks prepping for the event.  We already know the innards of the cake were traditional English fruit cake.  Seriously, I need to get to England and try some of this "fruit cake" because the only fruit cake I've ever had comes wrapped in red saran wrap at Christmastime and tastes like…well…vomit.  (I wonder if I am the only blogger who has said "vomit" in a post about the Royal Wedding?)  The cake features over nineteen different flowers that were intricately placed upon the cake.  A lot of attention has been given to the fact that they used one of each flower to represent the four countries of Great Britain on the top tier.  However, I enjoy the fact that one of the flowers used to adorn the cake was Sweet William.  Kate Middleton (apparently I am supposed to call her Catherine now?!) requested each of these flowers to her specifications and the fact she chose one named Sweet William?  Adorable.  As Barbara Walter's told me about 4,830,390,394 times on Friday morning…they "truly do love one another".
My favorite part?  Of course…the monogramming.  The southern girl in me leapt for joy at the site of this!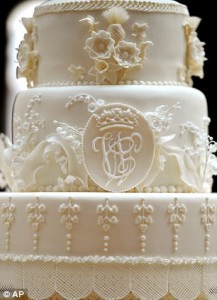 Sadly, these aren't my pictures.  I got them from here.
Read More:
Catherine
,
fiona cairns
,
floral wedding cake
,
HRH the Duchess of Cambridge
,
kate and will's wedding cake
,
Kate Middleton
,
kate middleton wedding cake
,
Large wedding cakes
,
royal wedding
,
royal wedding cake
,
white wedding cakes