0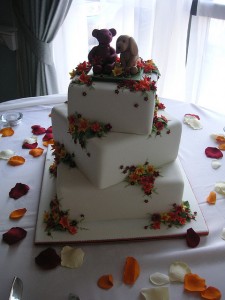 We have had so many days in a row of classic and traditional and stately, and well, regal.  I thought we could use a foil to all of that.  And so, I'm pleased to share this charming cake with you on the day after The Big Wedding.
This adorable cake features edible renditions of stuffed and furry friends – Cran and Ludwig – that played a role in the happy couple's special day.  But while the adorable figures perched atop the cake, decorated in beautiful and vivid pearlized hues, are striking, it was the other trim and the configuration that really caught my eye.
I have seen plenty of square cakes that stagger the shapes into squares and diamonds.  But I've never seen one employ this technique of the layers stacked and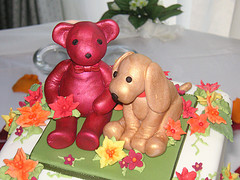 overhanging, like very orderly and beautiful boxes, which are flawlessly covered in fondant.  And the striking fall palette perfectly complements the figures atop the confection.  The gumpaste flowers are flawless in shape, color, and quantity, and the autumn-hued rose petals scattered around the table delightfully match and complete the look.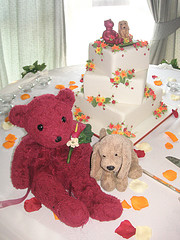 While we don't know the backstory for these sweet toys, we applaud the bride and groom for their creativity, and we say "Well done!" to the cake artist for a perfectly executed plan.  I hope the use of these beloved stuffed animals in such a high profile wedding-day way inspires you to make your day just as unique and personal.
Read More:
custom cakes
,
fall color wedding cakes
,
fondant
,
gumpaste flowers
,
personal cakes
,
personal inspiration cakes
,
rose petal garnish
,
square cakes
,
stuffed animals on wedding cakes