0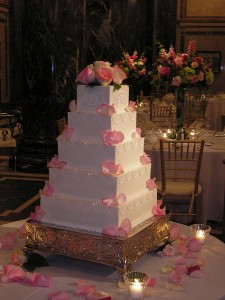 Aren't rose petals pretty?  We see them scattered on aisle cloths or lawns.  Sometimes they're strewn across the cake table (like they are here.)  But this baker goes a step further and actually puts them on the cake.
The simplicity of the vision is simple, and perfectly symmetrical, which lends a sense of calm and order to this lovely cake.  Pink roses crown the cake, and petals rest at each corner of the five graduated square layers, which are decorated meticulously with buttercream, royal icing swags, and classic white on white monograms on all four sides of the top layer.
Sometimes, it does your heart good just to look at something pretty.  And this cake qualifies.
Read More:
buttercream wedding cakes
,
monogram wedding cakes
,
Pink wedding cakes
,
pretty wedding cakes
,
romantic wedding cakes
,
rose petal wedding cakes
,
roses wedding cakes
,
white on white wedding cakes
,
white wedding cakes