0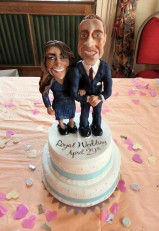 A royal wedding calls for a royal cake baking contest.
Tate & Lyle Sugars, a UK-based sugar refinery, recently hosted a contest, "Let Them Eat Cake," in which the winners would create a wedding cake fit for, well, a Royal Wedding.  They received over 120 entries, and the judges awarded two winners.  My personal favorite is this winner created by Cassie Lawrence and Gemma Peat from Truro, Cornwall, featuring an edible future King and Queen of England.  The second winner (which I think is really cool as well) is a British- inspired "love" cake.  The two winners will have their cakes displayed at the "Let Them Eat Cake" exhibition in London's Wellington Arch in the days leading up to the Royal Wedding. They will also receive a free cooking class at Squires Kitchen's International School.
You can check out all of the entries on their Facebook Fan Page.  There are a wide variety of entries from classic and traditional to a cake rendition of "taking the plunge".
Which is your favorite?
Read More:
Kate Middleton
,
let them eat cake contest
,
Prince William
,
royal wedding baking contest
,
royal wedding cake
,
tate and lyle sugars
,
wedding cake