0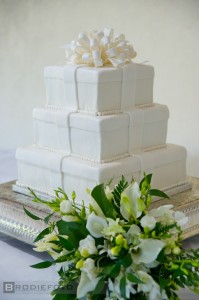 It occurred to me that it has been awhile since I featured a straight up classic wedding cake that wasn't consumed by dignitaries and former Spice Girls.  So today will be that day.
This lovely cake is a replica of a gift box.  This is the sort of gift that I like the receive..three tiers and completely edible.  In lieu of a topper, this couple went for a gorgeous fondant bow.  The bow is intricate and full of detail.  Seriously, my hat's off to the creator because I can't even imagine how much work that must have taken.
I am truly resisting the urge to say "if you like it then you better put a bow on it"…but then I guess I just did.
This picture was taken by Matt Brodie of Brodiefoto.
Read More:
bow wedding cakes
,
brodiefoto
,
fondant bow
,
fondant bows
,
fondant wedding cake
,
gift box wedding cake
,
present cake
,
present wedding cake
,
white wedding cakes