0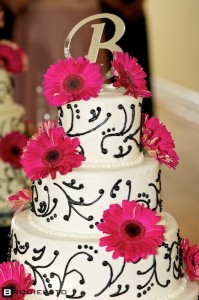 You're not dreaming. I believe it was just last week when I said that I had never seen a light cake with chocolate designs before. Well, if I had a hat I'd eat it.
It was also last week that I declared my love for hot pink gerbera daisies (again).
This week all my dreams have come true. Because here is a white
cake with chocolate scroll work, garnished with hot pink gerbera daises. I die. I am dead. This scroll work is a little less intricate than the cake I featured last week, but I think that's okay, because the flowers really make it pop. On top is a gorgeous silver "B". This cake was made by Carrier Cakes in Lexington, South Carolina.
Photo provided by Matt Brodie of Brodiefoto
Read More:
brodiefoto
,
carrier cakes
,
daisy wedding cakes
,
gerber daisy wedding cake
,
pink gerbera daisies
,
white cakes