0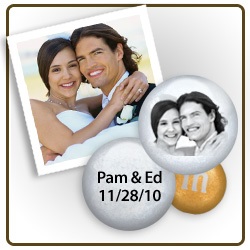 Okay, so…m&ms are not the same thing as cake. I have not gone off my rocker. However, last spring I went to a wedding where the bride and groom gave out personalized m&ms as their wedding favor. Did it freak me out that I was chomping down on a candy coated shell with my friend's face plastered on it? Absolutely not. Because..hello, they are m&ms, People. They melt in your mouth, not in your hand.
I thought it was an adorable way to send your guests home with a tasty treat. Rather than just throwing together coordinated wedding colors (pink and green per usual), you can also include pictures, sayings, and special dates. Of course, we all know these can work in a million different ways, not just for for weddings. Bridal Showers, Baby Showers, Bat Mitzvahs, Going Away Parties and Graduations would all be prime candidate events for such a treat. If you can dream it, then the Mars Candy Company can probably put in on an m&m. Lucky for you…you can save 10% by clicking here.
I decided to have some fun and create my own Royal Wedding themed m&m's. I'm having serious withdraw. Anyone else?
I feel obliged to tell you that I have no clue who Pam & Ed are..however, I believe their children may be genetically perfect don't you?
Read More:
chocolate
,
chocolate candy
,
colored m&m's
,
fun wedding favors
,
m&m discount
,
m&m's
,
Mars company
,
personalized m&m's
,
personalized wedding favors
,
unique wedding favors
,
wedding deals
,
wedding discounts
,
wedding favors