0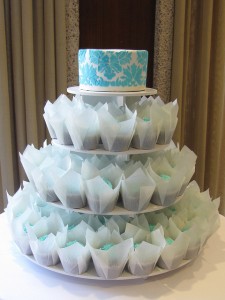 We think there is nothing new under the cupcake sun…but we would be wrong.  Because, while I love a good cupcake, I also love an original idea. 
Clever Cupcakes has brought us such a beautiful display of tiny treasures that I'd just like to stare at the picture for a minute.  Obviously, I think you will have the same reaction.
This tower of cupcakes is made up of no less than nine dozen of the tiny treasures!  The chocolate cupcakes – YUM – are frosted with opulent and luxurious Tiffany blue buttercream, and are finished with white dragees and sanding sugar.  The ethereal white tulip papers complete the "drifting down sweetly from heaven" effect.  To top off the tower, we have a six-inch mud cake, filled and frosted with chocolate ganache, which is tucked ever-so-neatly below a snowy blanket of fondant, dressed up with a damask stencil.
It may be the first time that chocolate was given a brief stay while I stand back and admire.  This is an excellent example of how attention to the smallest detail – here, the cupcake papers – can make all the difference in the world.
Read More:
chocolate cupcakes
,
Clever Cupcakes
,
cupcakes
,
wedding cupcakes