0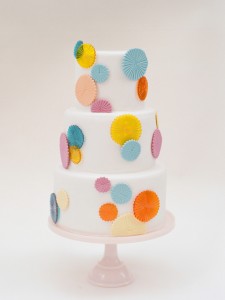 Scream it with me…summer…Summer…SUMMER!!!!!!
The ice cream truck has been circling my neighborhood, the kids are out of school, and the weather is just a touch below 100 degrees everyday here in South Carolina. After a long, snowy winter during which I stared at my neighbor's Christmas decorations from November to the end of FEBRUARY, I welcome the heat. For a little while at least. By July, I'll start moaning and groaning about how I wish it was fall again. You can never win with me.
Today I am in a summer mood so today we will showcase a cake that screams just that. Summer is color, summer is fun, and all summer weddings should have this gorgeous cake to go with them. The edible rosettes come in bright and fun colors that just make me want to put on my flip flops and head to the beach for a sunset wedding.
This summer fun cake was created by Cupcakes Couture out of Manhattan Beach, California, and was featured on Kiss the Groom.
Read More:
cupcakes couture
,
kiss the groom
,
pinafore wedding cakes
,
rosette wedding cakes
,
summer wedding cakes
,
wedding cakes with bright colors