1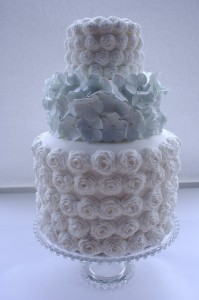 When this photo popped up on flickr today I almost fell out of my chair.  Just LOOK how gorgeous it is.  The flickr page gave me little info so I knew I had to go digging…and digging I went.
I found the baker of this beautiful cake to be Victoria of Victoria Made.  Much to my surprise we featured another one of her beauties last month.  Check out that other post and decide which one is your favorite.  It's difficult for me to choose but I think I'm sticking with this one.  I love the light blue and white color scheme.  This cake includes a double height tier at the base (a new trend which I am loving lately) that is covered in sweet rosettes.  The next tier is adorned with light blue flowers with a pearl center and the top features the classic white rosettes.  I am a fan of the double height tier because it gives the cake so much more dimension and makes it classy and fun all at the same time.
Photo Source (Want to see some talent?  Scroll through this ladies flickr stream..AH-mazing).
Read More:
rose wedding cakes
,
sophisticated wedding cakes
,
white wedding cakes