0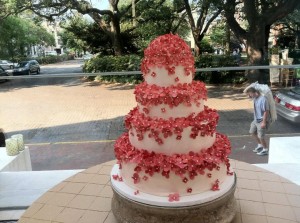 Wedding trends come and wedding trends go, but since the dawn of the Martha Stewart age, be-flowered cakes seem to be here to stay.  And I'm just fine with that.
When I saw this beautiful cake by Custom Cakes of Savannah, Georgia, I knew we had to feature it.  Four stacked tiers, covered with smooth white fondant and covered with a cascade of pink sugar flowers, each with a tiny pearl center.  The flowers – masses of them! – are individually placed, mounded on each layer and assymetrically cascading down the sides of the cake with a light hand, perfectly executed.
Ashlee Perkins designed the cake, and it was made by Ashlee Perkins, Minette Rushing, Kristen Brown, and Jon Rushing for a wedding reception held at Savannah's Jepson Center.
Read More:
Cascading flowers cake
,
pink flowers cakes
,
Pink wedding cakes
,
Savannah wedding cakes