0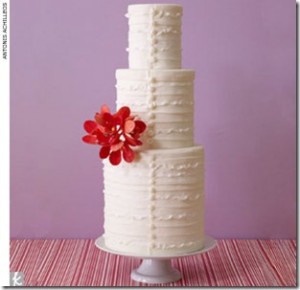 So seven months into 2011 I think it's time we talk trends baby. Cake trends that is. Because let's face it..I am always behind on clothing trends. I try so hard but oh my goodness how do I love a pony-tail and cardigans..I am so boring that way.  However, cake trends?  I think I got it.
Since I've been blogging about wedding cakes five days a week for the last seven months I have begun to take notice of the good, the awesome, and the coveted of wedding cake designs. There are lots of fun options that you can do with your wedding cake. 2011 has definitely been a wedding season of sweet, pretty, and creative. Here are just a few things that I am digging as we make our way into the last five months of 2011.
Double It Up
The Double Height Tier is probably my favorite trend this year.  It's a pretty simple concept: take a simple three-tier round cake and add height to one of the tiers.  It gives the cake height and an asymmetrical quality that takes it from a normal cake to a spectacular one.   Traditionally a cake tier is anywhere from 3-4 inches tall.  To achieve the double height the baker simply addsanother cake on top of the first cake and then frosts it with buttercream or covers it with fondant.  And voila! – double the height.  There is some baker's magic that happens to support the tiers so that the weight of the second cake is supported and you don't have a cake-tastrophy on your hands.
Put a Bird on It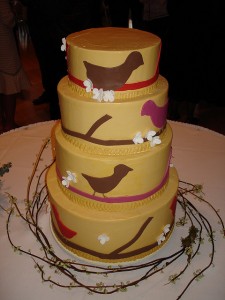 You knew I was going there.  How could I not?  In 224 posts here on A Wedding Cake Blog we have featured over twenty bird-themed wedding cakes.  Fondant birds, bird's nests, bird cake toppers, gumpaste birds, even Angry Birds…we have pretty much covered it all this year and I don't anticipate stopping anytime soon.  Birds on things?  Well they are everywhere.  You know when SNL makes a skit out of something it's pretty much embedded in our culture. And don't forget the owls.  I haven't seen too many owl themed cakes…yet.  I feel the time for the owl is on its way.
Move over Cupcakes…
…Because Cake Pops are taking over. Do you remember this gorgeous Cake Pop wedding tower I featured a few months ago?This was the post that introduced me to Cake Pops and its been all down hill from there. I overheard the owner of my local cupcake bakery telling a potential wedding client that since the spring she had gotten twice as many wedding orders for Cake Pops than Cupcakes.  Just in case you are wondering…yes, eavesdropping on unsuspecting wedding cake bakers so I can blog about things is apparently a hot Friday night for me.  At first this troubled me.  A decline in my beloved cupcakes?  No more whipped frosting and moist cakey goodness?  I mean really…what IS cake without the frosting?  Nothing I tell you.  Nothing.  Actually, no that's not true.  Cake Pops are delicious.  It's moist cake batter mixed with frosting, then baked and covered with candy coating.  As you can tell from the image above cake decorators can go all out on designing these beauties.  You can also get them in just about any flavor you can think of.  Which provides a little bit more variety when choosing flavors for your wedding display.  Sidenote, Cake Pops are also great for parties.  Have you seen The Bakerella's Rudolf Cake Pops? They make me want to put on slippers, light a fire and sing Christmas carols.  Then I remember it's over 100 degrees out…so I don't do that at all.
Sugar Flowers
I love sugar flowers.  Remember a few weeks ago when Brooke and I featured cakes made by the talented Victoria Made?  If you don't remember you can remind yourself here and here.  That was the moment I fell in lust with sugar flowers.  So tiny and gorgeous when they cover a cake.  Even plain white sugar flowers give a plain white cake a bedazzling pop that takes the cake from traditional to swoon-worthy.  There are so many options to do with sugar flowers from, changing up the colors to the spacing and the coverage of the cake.  Add a few or add a hundred…either way, sugar flowers are definitely in this wedding season.
My future is so bright…I gotta wear shades.
Photo Courtesy of The Pink Cake Box

One thing I have seen emerging lately is bright colors!  I am assuming that as we move into fall and winter, the fad will die down a bit as those seasons typically don't lend themselves to bright colors.  Sad, really, because I love the cheery feeling that I have been getting from these bright cakes.  It's not just what I like to call "all over brightness" like the cake featured above, either.  I have seen a trend where neutral cakes get bright pops of color through fondant designs such as stripes or polka dots, or from live flowers.  Come on, how many times did I ramble on about hot pink gerbera daisies this spring?  (Sidenote, five times to be exact.)  I love it and I am hoping that if the brightness does disappear in these last months of 2011 that it will have a resurgence in spring of 2012.
With so many amazing cakes that were displayed here or on other blogs so far this year, it was hard to choose just a few emerging trends but I think I covered all my favorites.  Actually, my favorites seem to change every other day so if I re-read this post on Wednesday I will probably totally disagree with myself.  What do you think of the 2011 Wedding Cake Trends?  Did I miss any that you think are worthy?  What is your favorite trend that was mentioned here?  I am going to have to stick with the double height tier.  I am still trying to decide if this is because I like the way it looks OR if it's because psychologically it makes me think I am going to get a bigger piece of cake.
(Photo via The Knot.  Photographer:  Antonis Achilleos.  Baker:  Cake Alchemy.)
Read More:
2011 wedding trends
,
angry birds cake toppers
,
birds wedding cakes
,
brightly colored wedding cakes
,
cake pops
,
cupcakes
,
double tiered wedding cakes
,
owl cake toppers
,
spring wedding cakes
,
sugar flowers
,
sugarpaste flowers
,
summer wedding cakes