0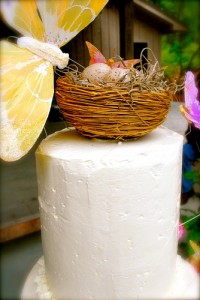 Oh yes..another bird related cake topper.
This one though..is a birds nest. A real live on. Well..I guess technically birds nest aren't "living" so to speak, but it's a real one. Made by birds. The bride got this one from her work and filled in with Spanish Moss and decorated the nest with cream speckled eggs..which I don't think are real..and colorful butterflies. Those are fake.
We've actually featured this cake before in this post however, I figured it was so unique and special it deserved a post all its own.
What homemade cake toppers have you seen? What kind of topper do you like better: handmade like the bicycle riders I featured a few weeks ago, store bought like this Lenox figurine we featured last week or homemade by the bride like is featured here?
Read More:
bird wedding cake toppers
,
bird wedding cakes
,
butterfly wedding cakes
,
homemade wedding cakes
,
nest wedding cake toppers
,
wedding cake toppers