0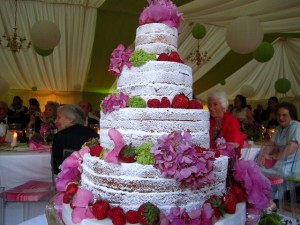 Fondant…buttercream…fondant…buttercream…How about neither?
This is a trend that I've been seeing more and more of lately, especially for our friends across the pond:  a naked wedding cake.  Well.  Not truly nude.  Normally, these lovely and simple cakes feature a filling of fruit preserve and/or frosting, and a generous dusting of powdered sugar.  In this case, the finished cake also features fresh flowers and fruit.
Some might not like this minimalist approach.  But I say that, where you have a fantastic baker, capable of turning out flawless, moist, delicious, and interesting cake – why not?  Especially in the summer, when we tend to lighten up on desserts a bit, this would be a delicious and appropriate direction to take.  It would be aMAzing served with a simple fruit sorbet, for instance.  And depending on the fruit in season at the time, you could have a lot of fun with garnishes, too.  I'm thinking cherries and apricots…
By the, how much do you LOVE the tent and big green bubble lanterns and chandeliers?
Photo Source
Read More:
fresh flower wedding cakes
,
fruit wedding cakes
,
light wedding cakes
,
naked wedding cakes
,
wedding cakes with no icing