0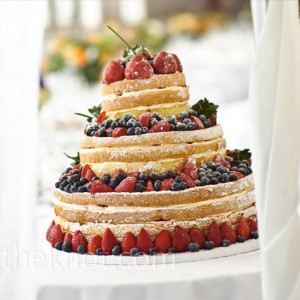 Somehow, saying the number in French makes the word "naked" ever so much more classy, yes?
I am feelin' summer today, y'all!  And if summer isn't about no fuss, no muss, and HOT, and get-out-of-the-kitchen (or pastry shop) and enjoy your guests, then I don't know what is.  And this simple cake of sponge, layered with buttercream and topped with berries and more berries and a dusting of confectioner's sugar, is low maintenance at its finest.
And that is exactly what this cake says to me:  it's fresh, it's seasonal, it's not over done or fussy.  And you won't walk away from it feeling like you just consumed 8,000 calories (a nice plus if you're wearing something sleeveless or form-fitting.)
I've said it before, but I'll say it again:  I would TOTALLY have a cake like this if I were doing the big shindig all over again!  What do you think?  Would you go for naked wedding cake?  Or does buttercream and fondant complete your dreams?  For me, the luxury of this many berries is quite enough.
Read More:
berry wedding cakes
,
fruit wedding cakes
,
naked wedding cakes
,
seasonal wedding cakes
,
summer wedding cakes