0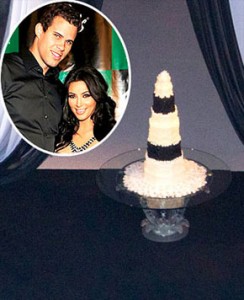 You knew it was coming.
England has Kate Middleton and we have Kim Kardashian.  Our forefathers are probably rolling over in their graves on that one.  Anyhow, I just so happen to be Kardash-crazy and my heart was all a flutter with the release of this photo from Us Weekly.
Unless you are living under a rock you may have heard that Kim Kardashian married NBA player Kris Humphries over the weekend.  Offical pictures have not be released from the Kardashian camp as of yet but of course little teasers are appearing all over the interwebs–and lucky for us one of them is of the cake!
This cake was six feet tall..which is actually taller than Kim herself.  It was a six foot black and white tiered beauty that matched the theme of the black and white wedding–I read one report that all the guests had to wear black and white.  The cake reportedly cost between $15,000 and $20,000.  No official word on who baked the cake..but my guess would be with Hansen's Cakes in Los Angeles since Kim, Kris and Kim's mom went on a cake tasting there towards the end of July.  Also, you might remember Kim's overly gorgeous Cinderella themed engagement party cake as also a Hansen's cake.
Read More:
hansens cakes
,
hansens cakes kim kardashian
,
Kim Kardashian
,
kim kardashian and kris humphries
,
kim kardashian wedding
,
kim kardashian wedding cake