0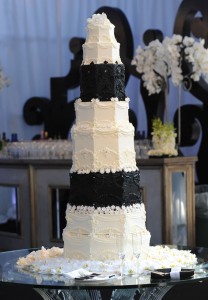 It seems like ages since Kim Kardashian married NBA player Kris Humphries in that over-the-top-made-for-TV spectacle way back in August 2011. And while it is sad that the marriage lasted a mere 72 days, we're here to talk about the cake.
The wedding colors were black and white and the cake was a beautiful reflection of that with black frosted layers inserted between the white frosted layers.
The cake itself was six-feet tall, which makes it shorter than an NBA player but taller than his reality TV bride. That is one big cake. It might seem excessive, but this is the Kardashian family we're talking about.
The chocolate and vanilla behemoth of a cake reportedly cost between $15,000 and $20,000, and was baked by Hansen's Cakes in Los Angeles.
The wedding might not have lasted but at least this former celebrity couple can say they had a pretty amazing cake.
Read More:
Black and White Wedding Cakes
,
celebrity wedding cakes
,
chocolate cake
,
kim kardashian wedding
,
kim kardashian wedding cake
,
tall wedding cakes
,
vanilla
,
white wedding cake