0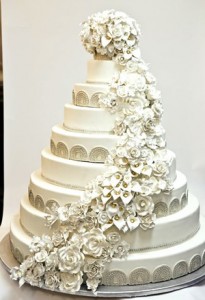 And so it continues.  The hot hotness of summer, I mean.
Vacation is over and school's looming up before us here (we go back August 15 in these parts.  Ugh.)  It's extremely hard to school supply shop when you'd rather be at the beach, yes?  Maybe someone needs to make some cute little plaid bikinis with matching cardigan cover ups.  And we can have apple tartlets in lieu of, well, you know.  So who's gonna make the kiddoes go back to school if Mama doesn't want to?
But I digress.
I have an AWESOME visit with my best friend coming up, and more wedding pretty than you can shake a stick at.  So things are lookin' up.
By the way…are you lovin' what you're seeing here in the round up, and on the pages of A Wedding Cake Blog everyday?  We would love to hear from you below if so…
And now, onto The News:
The other Royal Wedding took place yesterday.  (No.  Not the Monaco one.  The other British one that's garnered hullabaloo.) Zara Phillips, granddaughter of Queen Elizabeth, daughter of Princess Anne, and thirteenth in line to the British throne, married rugby champion Mike Tindall at Canongate Kirk, a lovely old church where the Queen worships during her stays in Scotland.  The bride wore a Stewart Parvin gown and Jimmy Choo shoes.  The Duke and Duchess of Cambridge were stylishly in attendance.
In the U.S., Kim Kardashian's wedding invitations have been sent out.  The location is undisclosed, and the stationary – boasting hematite crystals – arrived to guests in its own box.  (So much for understated.)  They've also been cake tasting.  They better hurry up and book that baker!
This time last year, we were all a flutter with hoopla over Chelsea Clinton's wedding, as well as her gluten-free cake.  In honor of the first anniversary of her marriage to Marc Mezvinsky today, please enjoy the pic above of the ab-fab creation – all nine tiers of vanilla-cake-filled-with-chocolate-mousse of it.
Here's one to clip and file…or to at least shortcut on your desktop:  Ten Bridal Beauty Bummers and How to Fix Them.
And of course, The Sweet and Pretty:
We are lovin' the gentle simplicity of Kate and Jerry's wedding, courtesy of The Williamsburg Wedding Blog.
These lacy wedding dresses that Broke Ass Bride featured in response to a reader's inquiry are enough to make me want to get married.  Again.  No.  Seriously.  Well…maybe I'll settle for dressing as a bride for Halloween.
Loving braids as much as we are right now?  Check out these gorgeous braid up 'dos featured on Jennifer Lynn Events Blog.
If you are suffering (as I am) from hot summer blahs, then head with me to this real wedding in a – wait for it – ice palace in Sweden.  Get the sensation!  Emma and Paul's Winter Wonderland, courtesy of Cakes by Beth.
My favorite DIY idea of the week:  homemade vanilla extract to sweeten the life of your guests, brought to you by Wedding 101.  Yesssss.
Would you wear a short dress for your wedding?  (Yes.  I know I'm dress-heavy.  But howwww could I resist this one??) Courtesy of The Knotty Bride.  This is happiness.  In dress form.
Are you ready for some FOOTBALL?  This is where Brooke comes out of the closet – the football closet, that is – and divulges that, in between scouring the world for sweet and pretty, I heart the Georgia Bulldogs.  In honor of (yay!) football season right around the corner, a UGA Bulldogs groom's cake, from Jenniffer at Cupadee Cakes!  Mmm  Mmmm Goood. 
Have a delicious week!
Read More:
braided updos
,
bridal beauty
,
british royal family
,
british throne
,
canongate kirk
,
celebrity wedding cakes
,
chelsea clinton
,
chelsea clinton's wedding cake
,
chocolate grooms cakes
,
Duke and Duchess of Cambridge
,
georgia bulldogs grooms cake
,
gluten free wedding cakes
,
grooms cakes
,
hair braiding
,
homemade vanilla extract
,
Kim Kardashian
,
kim kardashian wedding invitations
,
lacy wedding dresses
,
marc mezvinsky
,
mike tindall
,
princess anne
,
Queen Elizabeth II
,
royal wedding
,
scotland
,
short wedding dresses
,
zara phillips