0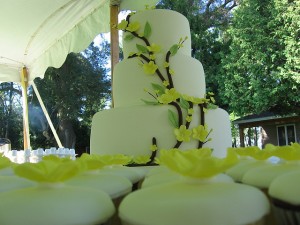 So, we've seen many cherry blossom wedding cakes of late.  But until now, I hadn't seen yellow blossoms…and I am in love.
This cake, covered in fondant (ohso appropriate for the casual elegant outdoor reception), is trimmed with a meandering branch that spans all three layers.  Daintily perched on the branch are pale yellow blossoms and light green leaves in a sparse design.  It almost puts me in mind of forsythia (which, had this been a forsythia-trimmed wedding cake, Brooke would have died and gone to heaven right on the spot.)
This bride also gives her guests options, as the small-ish wedding cake is accompanied by matching, yellow blossom cupcakes.
Love!
Read More:
blossom wedding cakes
,
small wedding cakes
,
wedding cupcakes
,
yellow and white wedding cakes
,
yellow blossom wedding cakes
,
yellow wedding cakes