0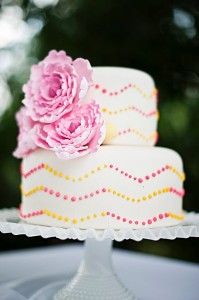 I remember that we flirted a little with chevrons last year, and I'm happy to see them representin' again in 2012.
Isn't this a darlin' little cake?  I love the sassy little polka dots that bring just the right pop of color, and the ruffly peonies say summer pretty in such a lovely way.  Really, are there any prettier flowers for a wedding than flouncy peonies?
The demure size just lends to the charm.  We could see this design translated to any number of hot color combinations (teal and chocolate?  grey and yellow?  blue and green?), and the design would be darling on a cutting cake and matching baby cakes or cupcakes or cake pops – oh my!  And if you're expecting a crowd for your shindig, this could easily be the perfect get together for a more intimate celebration, like a bridesmaids' luncheon.
We don't know the baker of this lovely cake sadly, but we can tell you that it was photographed beautifully by BRC Photography of Norman, Oklahoma.
Read More:
CakePops
,
milk glass cake plates
,
milk glass cake stands
,
peony wedding cakes
,
pink and yellow wedding cakes
,
Pink wedding cakes
,
small wedding cakes
,
wedding cupcakes
,
white wedding cakes
,
yellow wedding cakes