0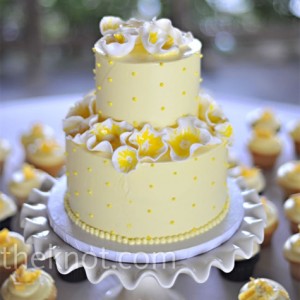 We hear that a lot of couples are going for smaller celebrations these days.  Maybe their circle of friends is smaller.  Maybe they're cutting down on the expense of a big wedding.  Or maybe they're just thinking that a wedding is kind of an intimate thing, and really doesn't need to be shared with everyone you ever met in your life.
Whatever the reason, we're seeing really lovely examples of smaller cakes, like this one.  This two-tiered sunny yellow cake is iced with buttercream and decorated with a simple dot design, and is topped with abstract yellow and white flowers that resemble pansies.  I love the demure size – perfect for a gathering with your closest friends and family.
I found the cake on The Knot's wedding site.  It was created by The Suisse Shop in Columbus, Ohio.
Read More:
buttercream wedding cakes
,
demure wedding cakes
,
ohio bakeries
,
ohio wedding cakes
,
petite wedding cakes
,
polka dot wedding cakes
,
small wedding cakes
,
small weddings
,
the suisse shop
,
white wedding cakes
,
yellow flower wedding cakes
,
yellow wedding cakes