0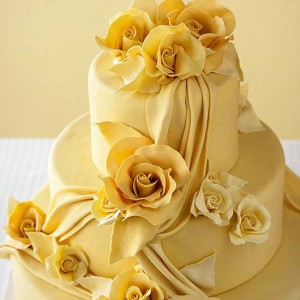 There's just something about the color yellow – it's so bright and cheerful and instantly puts me in a good mood.
The same can be said for this wedding cake.
It's bright and cheerful and very elegant.
Now, yellow might not be your first color choice when deciding on a wedding cake, but I have to ask "why not?"
It's unexpected. And modern. And it's something that your guests will most certainly remember from your reception.
Of course, as with most colors, there are varying shades of yellow and when choosing a yellow cake one doesn't want to go too bright or garish. But this butter yellow color – well, it's practically perfect in every way.
The elegance of the cake comes from the roses and swags that adorn the otherwise smooth icing of the cake.
You can find this sunny yellow cake here.
Read More:
chocolate covered cakes
,
floral wedding cakes
,
Roses
,
roses on wedding cakes
,
yellow flowers
,
yellow flowers on wedding cakes
,
yellow roses
,
yellow wedding cakes