0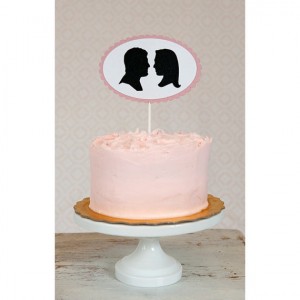 I feel like I should rename this Show Stopper Friday. For realz.
This silhouette cake topper is made by Simply Silhouette Weddings and it is kind of amazing. I could be partial though because I am all about some silhouettes lately. I have seriously "pinned" every DIY silhouette tutorial on Pinterest in an effort to get one made of my son. I'll let you know how that goes…probably not well if history plays a role. I should probably leave it to the professionals because these are just so gorgeous. This topper is fresh and modern with the clean lines and crisp white but the concept of the silhouette just screams vintage. And in case you haven't heard, vintage is kind of in.
In all seriousness this shop rocks my world and makes me wish I was getting married. From adorable ring bearer pillows, custom wood toppers and a creative guest book alternative.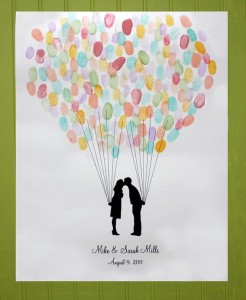 My favorite has to be this Finger Print Balloon Guest Book Alternative. I kind of want to find a way to make this appropriate to just hang in my bedroom (even though I got married over five years ago). Would it be entirely inappropriate to stalk all my wedding guests and fingerprint them? Probably…but hmm…
Visit Simply Silhouette Weddings Etsy shop…but be warned. You may not have any money left when you're finished.
Read More:
silhouette wedding cake topper
,
simply silhouettes
,
vintage wedding cake toppers
,
wedding cake toppers