autumn cakes
0
There must be something in the air this week as I'm still slightly obsessing over all things fall.
And while this cake would look great at any time of year – but would look amazing in the fall – I had to share it with you.
I found this cake while searching "DIY decorations" and perhaps a DIY wedding is not in the cards for you. However, I'm sure your baker could create some lovely leaves to wrap around your wedding cake. Read More
4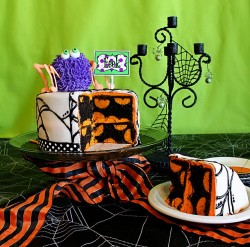 Halloween is my second favorite holiday of the year.  It's a close second to Christmas…but that's not really a fair comparison though.  I mean Christmas lasts from November 1st to January 1st…basically.  Halloween gets a good solid week of celebration but it's such a FUN celebration.  One day (or two or three if you happen to be extremely popular and get invited to multiple parties) a year you get to abandon yourself and pretend to be someone (or something) else for just a little while.  Did you know that Halloween weddings are actually more popular than Christmas weddings?  It's true.  I looked it up in this big book I have in my living room Read More
0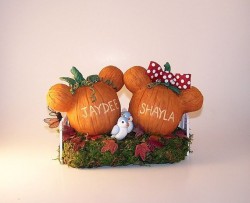 Happy Fall Everyone!
Yes…I know it's technically not fall.  And I know it's literally still in the 80s and 90s oh…everywhere, prettymuch.  But, you see, I can't help myself.
There are two things I love (well, there are many things I love…but the "two things" work here, so we'll call it poetic license.)  I love fall.  And I love Disney.
So you can imagine how hard I flipped when I saw this ab fab cake topper on Etsy!
Sweet Pixie Pie will customize your very own Mickey and Minnie Pumpkins for the top of your adorable fall wedding cake!  Yes, dreams really do come true!  The toppers are custom-made (obviously) from polymer clay.  Clearly, this adorable topper is destined to become a keepsake long after the "I dos" are done.
Check out Sweet Pixie Pie's Etsy shop for more deets!  And Happy Early Fall, y'all!