0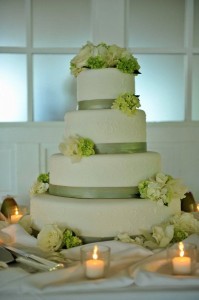 There are four reasons that I love LOVE this cake.
You had me at sage green. This is my favorite shade of the verdant color, hands down.  It's such a calm, cool shade of green, that I picked it as one of my primary paint colors in my home.  After living with it for seven years, I'm still not tired of it.
Oh monograms, how I adore thee. You can barely make it out from this photo, but there, centered in the front of the second tier from the top is a script, white on white monogram.  Oh, nothing says perfection and "completely complete" to me like a monogram does.  And that it's white on white is just icing on the cake! and leads me to number three…
How much do I love white piping? A lot!  Lemme tell you.  Intricate scroll designs, a shade lighter than the background, are just so classic and pretty.  And when something is just so, it doesn't need to holler at you.  It can speak quietly and graciously, like this cake does.
Finally, fresh flowers. Oh, I know that it's ever-so-vogue these days to make everything out of gumpaste.  And truly, the work of cake artists who fool the eye with handmade blossoms is astounding.  But I am a sucker for fresh flowers on a wedding cake, and if the flower du jour is a lacy cap of hydrangea blossoms accompanied by white roses (also one of my favorites), even better.
Seriously.  This cake should be called The Brooke.
This beautiful cake is the work of Palmer's Bakery in Darien, Connecticut.  You may recall that I featured Palmer's Bakery in another post recently, while rhapsodizing about pate de fruit.  What can I say?  I may have developed another girl crush.
Read More:
hydrangea wedding cakes
,
monogram wedding cakes
,
roses wedding cakes
,
sage green wedding cakes
,
white on white wedding cakes
,
white wedding cakes