0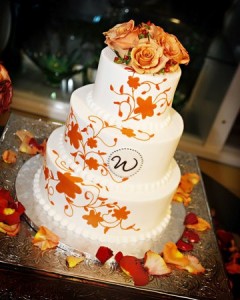 I needed some serious pretty this morning, y'all.  It might be time for a vacation

Isn't this cake incredible?  I know…once again, I'm season-bending.  BUT – I still justify this by saying that if you are looking at A Wedding Cake Blog right now, and are planning a wedding, it's probably not for next week, right?  So it only makes sense to show you cakes now and then a couple of seasons hence.
I love the vibrant color here, and the freehand, scrolly, flat decoration.  How it vines down the cake.  How they used real flowers to complement the look of the piping, but neither overwhelms the other.  I also love the kinda different monogram.  It's not script, or block.  It almost seems completely unique.
This cake was made by Cut the Cake, Inc. – which is apparently right here in my Central Florida backyard!
Read More:
central florida wedding cake
,
fall wedding cake
,
monogram wedding cakes
,
orange roses wedding cakes
,
orange wedding cake
,
roses wedding cakes
,
white and orange wedding cakes
,
white wedding cakes