0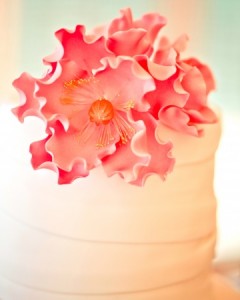 Sometimes in January, you just need a little color, yes? A reminder that spring will come again, and fun summer times will be on her heels.
I adore peonies. And from the looks of this Pink Peony Wedding Cake, this lovely White Wedding Cake with a big, flouncy pink peonies, and this Thai-inspired Wedding Cake with a gold-tinged peony, cake artists quite agree.
But today's peony cake topper just warmed my heart.  I think that's exactly what it reminds me of: that warm flush, that smile, that love elicits. I hear violins swell when I look at this cake.
And that's a pretty cool power for a cake to have.
Photo Credit: Meg Hamilton/Rodeo & Co.
Read More:
floral wedding cake toppers
,
flower wedding cakes
,
peony cake toppers
,
peony wedding cake toppers
,
peony wedding cakes
,
Pink wedding cakes
,
sugar flowers
,
sugar peonies