1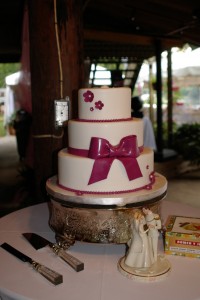 I love when a plan comes together.  And today's cake is an example of just that.
This lovely cake is the beautiful work of Kristin from Fat Girl Cakes in Fredericksburg, Virginia.  Kristin tells me that the bride for this wedding wasn't quite sure what she would like in terms of a cake.  When they met, Kristin flipped through a book of cakes for inspiration, and the bride mentioned that she loved one of the display cakes as well.  She seemed to gravitate toward cakes that featured bright colors…and that's all Kristin needed to get the creative ball rolling here.
So…where does the "plan come together" you ask?  Ah, so glad you did.  See that lovely shade of fuchsia that the cake's got goin' on?  That would be the exact color of the bridesmaids' dresses, thankyouverymuch.  It's J. Crew "Bright Dahlia" if you're interested in the deets (and I so was.)  The cake features three tiers, six-, nine-, and twelve-inch rounds respectively, and the yummy cake inside the beautiful design is chocolate chip and vanilla, with vanilla buttercream.  The perfect bow and other embellishments are made of gumpaste.
Another interesting point to note:  have you noticed that little dollop of buttercream up top, and that lovely Cinderella cake topper below?  Cinderella and her prince were a little on the heavy side for a day when rain turned to uber-humid; Kristin and the events coordinator agreed that Cindy should be placed on the cake just before picture time.
So, what have we learned here?  First, a really good cake artist knows her stuff!  Come to her with vague ideas, like, "I'd like a cake, please" – and she will set you up!  And secondly, always, always, trust your baker when it comes to balancing porcelain on the cake she just painstakingly made.  She will never steer you wrong.
Read More:
colorful wedding cakes
,
fredericksburg va bakers
,
fuchsia and white wedding cakes
,
fuchsia wedding cakes
,
Pink wedding cakes
,
white wedding cakes